ELAINA COAT
Our chicly striped Elaina Coat is classic in spirit and inspired by worldly travels. This unique style is woven in extra-fine raffia — traditionally used on hats, we used its textured character to create a tailored, structured silhouette that still moves with you. Lined in a cotton, mosaic tilework print, the straight, buttoned-up silhouette is cut short for a more modern look, with bracelet sleeves and navy logo-embossed buttons for a polished finish. As worn on our runway, it's an understated statement piece that works as a stylish alternative to a traditional blazer or jacket.



Style Number: 11132505
Extra-fine raffia.
Bracelet length sleeves.
Front flap pockets.
Navy enamel logo button front.
Cotton voile lining.
33.5" (85.1cm) in length.
Please note buttons are navy enamel.
Shell: 55% rayon, 45% cotton.
Body lining: 100% cotton.
Sleeve lining: 100% polyester.
Dry clean only.
View Details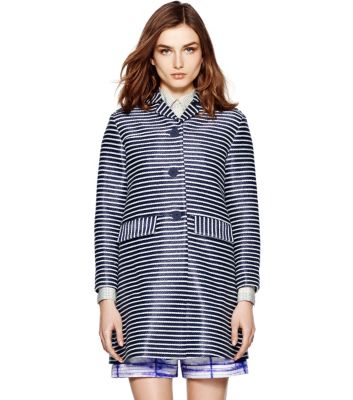 SILK BRIGITTE BLOUSE
Our Brigitte Blouse is a wardrobe classic. Made of silk with a hint of stretch, in two new graphic prints, it's menswear-inspired but tailored — choose your regular size for a snug fit, or size up for a more relaxed feel. This easy silhouette features safari details, including epaulettes and camp-style sleeves that can be left long or rolled with a tab closure.



Style Number: 12131198
Stretch silk.
Enamel button front.
Utility chest pockets with button detail.
Button tab closure at sleeves.
Enamel button detail at shoulder epaulettes and cuffs.
Straight fit.
24.5" (62.2cm) in length.
93% silk, 7% spandex.
Dry clean only.
View Details
color size
Quantity:
Availability:
Checkout
Ambrosia Sandal
Inspired by the bohemian beading, bright colors and tasseled pom-poms of Morocco and other far-flung locales, the Ambrosia Sandal was an instant hit right off our spring runway show. This artfully embellished style is detailed with clusters of beads, all on crisscrossed straps of natural straw, and a high-gloss red, lacquered heel for eye-popping polish. Surprisingly versatile, this pair is an easy way to add a cheerfully eclectic touch to any look, from tomboy jeans or classic workwear to punching up an evening dress.



Style Number: 12138518
Straw and leather upper.
Roller buckle closure.
Lacquered heel. Heel height: 4.1" (105mm)
View Details