797 Medium Satchel
Designed in celebration of our new Madison Avenue flagship boutique in Manhattan, the 797 Medium Satchel is crafted from fine textured leather in a range of fall-ready colors. Whether you pair it with a dress or jeans and a t-shirt, it's the ideal grab-and-go bag, carrying you (and all your essentials) from work to weekend.



Style Number: 31129681
Leather.
Foldover closure metal keeper plaque.
Leather keeper with split key ring.
2 Zipper pockets at back and front.
1 Interior zipper pocket.
2 Additional iInterior open pocket.
Interior round mirror.
Jacquard logo lining.
Gold tone hardware.
3 Piece metal logo on leather.
Interior Tory logo plaque.
Adjustable flat leather top handle with 3 1/2" drop.
Flat leather removable/adjustable crossbody strap fully extends to 23".
9 1/2"H x 12"L x 4"D.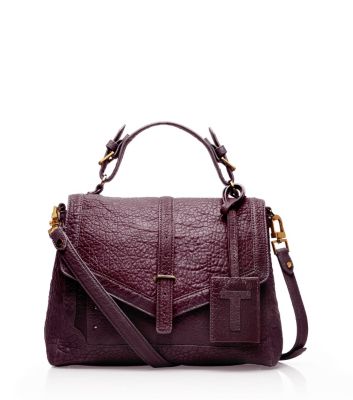 797 Medium Satchel 2 2
color fades QUICKLY I 100% agree with the previous reviewer. This bag in the plum color is lovely and I've used it almost every day for the past 8 weeks. The color started to fade probably about 3-4 weeks in, but I actually liked the color even better when that happened so I wasn't upset by it. But now it's faded even more in certain sections making the bag look a lot older than it is. I'm not sure what kind of dye they are using on this leather but it isn't the kind you'd expect from a $500 bag that's for sure. I'm going to take it to a leather repair shop to see if there's anything they can do to save this baby from losing any more of its color. November 29, 2012
Love the bag, but it's already worn out! I absolutely love this bag in the plum - I got it about a month ago, and the color is already fading! The part where it meets my hip is all discolored and worn and the leather is fading. It is such a shame because this bag is really beautiful. October 11, 2012