Suede and Leather Medium 797 Satchel
Designed in celebration of our Madison Avenue flagship boutique in Manhattan, the 797 Medium Satchel comes in rich suede and leather for fall. Its just-right size will accommodate all your daily essentials — while its ladylike shape keeps you looking polished. Whether you pair it with a dress or jeans and a t-shirt, it's the ideal bag to grab-and-go, carrying you from day to evening.



Style Number: 32129686
Suede & Leather.
Leather keeper with split key ring.
Foldover closure metal keeper plaque.
2 exterior zipper pockets on back and front.
1 interior zipper pocket and 2 additional open pockets.
Small interior mirror.
Logo jacquard lining.
Gold tone hardware.
3 Piece metal logo on leather patch.
Interior Tory logo plaque.
Adjustable flat leather top handles with 3 1/2" drop.
Flat leather removable/adjustable crossbody strap fully extends to 23" (w/ roller buckle).
9 1/2"H x 12"L x 4"D.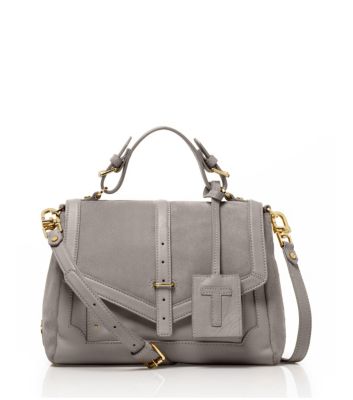 Suede and Leather Medium 797 Satchel 2 2
Watch out with ordering the lighter colors! I ordered this bag as my first "out-of-college-big-girl-bag" and spent months researching the perfect bag at the $500 price point and fell in LOVE with this design. When the Tory Burch Friends and Family sale gave me an extra 25% off, I pulled the trigger on this bag in the "Rock Grey" color, and let me say, I am extremely disappointed with the quality of this bag. First of all, the gold hardware that holds the leather flap closure (which was one of my fave details on the bag) is tilted to about a 45 degree angle instead of being a straight line. When you open the flap, the placket was clearly attached poorly and is glaringly obvious. Also, after owning this item for one week, the bag won't stand up by itself. It completely slouches in half when I set it upright. The biggest issue, however, is the suede on the bag. If you intend on wearing this as a crossbody bag and order it in the grey or the mustard color, watch out for some serious denim stains on the suede. The back of the bag is half suede and, after wearing it for one day, the entire suede section on the back and on the side was dyed a dark denim color. Sorry for the long review, but I feel if you plan to spend $525 on this bag, as cute as it is, go with the leather 797 or the dark green. I am really sad this one didn't work out for me :( October 25, 2012
Cute design I love the design of the bag, which is cute and fashionable. September 29, 2012